Akubra - Australian made at Kempsey, New South Wales
and sold by Rhonda's Refits. Call us for a freight quote.


Tel/Fax 07 46 3 789 33 E-mail mailto:info@rhondasrefits.com


Akubra Roughrider Akubra Arena Akubra Territory
$185 $185 $170
Black or light sand/bran Black or sand Khaki,san tone,sand
Blue, Loden, Magenta

Top Hat Cattleman Outback Club
$185 $165 $180
Black Khaki, Bran,Fawn,,Grey, Sand Black or sand


Stony Creek The Bobby Snowy River
$NA $NA $165
Light Sand Black, Sand Sand, Santone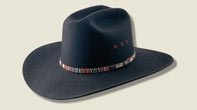 Coober Pedy Bronco
$190 $185
Santone,sand Black,or Quartz


The Croc Riverina
$190 $185
Black Bran,Loden,Sand

Avalon Tempest $165
Bianca Magenta $NA
Bogart Black $160
The Boss Tanbark Brown $na
Campdraf t sand $155
Centenary sand $na
Cowboy Tanbark, Sand, Santone $na
Fedora Carbon Grey $na
Golden Spur sand $170
Kentucky Rancher Light Sand $na
Mansfield Sand, Sorrel $na
Pastoralist Fawn $na
Saddle Bronc Tanbark, Light Sand $na
Sombrero Fawn $na
Stockman Sand, Santone $165
Squatter Carbon Grey $na
Traveller Regency Fawn $160
Warrego Sand $NA
Woomera Sand $175

Sizes up to 64 in stock in some of the above.

B K Smith Felt Hat Care Kit. Cleaning sponge, 125mL cleaning spray, 125 mL rain and stain protector. $24.95