Western Movies
Six Shooter Classics. Gunsmoke. All $15. We can post all videos for $3 a video to anywhere in Australia. Check on availability

1.

SEMINOLE
Staring Rock Hudson, Barbara Hale, Anthony Quinn.
The glory and the fury of the Great Everglades Indian Wars.




2.

MAN WITHOUT A STAR
Starring Kirk Douglas
Hollywood icon Kirk Douglas stars as roving cowboy Dempsey Rae, who arrives at the extensive spread of hard-as-nails ranch owner Reed Bowman (Jeanne Crain), fresh from riding the rails. He signs on and the cowboys begin work on a fence, but the truth dawns that they have been hired to fence off land that smaller ranchers need to graze their herds. Rae decides to stop digging hols and joins the other side.

3.

THE TALL MEN
Starring Clark Gable, Jane Russell, Robert Ryan
In post Civil War America two nefarious brothers, Ben (Clark Gable) and Clint (Cameron Mitchell), join a perilous cattle drive from Texas to Montana and rescue young Nella (Jane Russell) from a pack of unforgiving Indians. Competing for her affection the brothers are ill prepared for the challenges that lay ahead when Texas cattle baron Nathan Stark (Robert Ryan) steps in to take his claim.



4.

Texas Across The River
Starring Dean Martin, Tina Marquand, Rosemary Forsyth and Joey Bishop.
Featuring screen icons and delectable starlets, Texas Across the River is a wild spoof of early frontier life.




5.

Gunsmoke Vol 1. Return to Dodge
Starring James Arness as the legendary lawman Matt Dillon.
Hauled out of retirement and into action, legendary lawman Marshal Matt Dillon dusts off his chaps and loads his shotgun to restore peace to the townsfolk of Dodge City, Kansas.





6.

Gunsmoke Vol 3. To The Last Man
Dragged into the middle of a high stakes range war, Dillon is faced with the task of cleaning up the mess before the bloodshed worsens.
Starring James Arness as the legendary Marshal Matt Dillon.
7.

Gunsmoke Vol 4. The Long Ride
In a classic case of mistaken identity Dillon is forced into a desperate situation to clear his name.
Starring James Arness as the legendary Marshal Matt Dillon.



8.

Gunsmoke Vol 5. One Man's Justice
Lured into a young man's plight to avenge the death of his mother during a daring wagon coach robbery, Dillon sets off to stifle the hot-headed man before he himself is killed by the gang responsible.
Starring James Arness as the legendary Marshal Matt Dillon.



9.

Broken Lance
Starring Spencer Tracy, Robert Wagner, RichardWidmark
Broken Lance is an epic tale of what happens when a hard nosed pioneer trusts his wayward sons to continue the family legacy.
When cattle baron Matt Devereaux (Spencer Tracy) illegally raids a copper smelter that has been polluting his water, he divides his property among his three oldest sons, while his youngest son Joe (Robert Wagner), born of a marriage to a Comanche woman, takes the rap for the crime and is sentenced to three years in jail.When Joe emerges from prison he finds the world has changed - and sets about planning his revenge.
10.

A GUN FIGHT


Starring Kirk Douglas and Johnny Cash
In Baja Rio two ageing gunfighters make a life changing decision. With the sun setting on their dusty careers,down on their luck and with no other skills to exploit, they decide to sell tickets to their own winner-takes-all shootout.



11.

Lonely Are The Brave


Starring Kirk Douglas and Walter Matthau
Jack Burns (Kirk Douglas) contrives to get himself tossed into the same jail as old friend Paul Bondi (Michael Kane) from where he plans to bust out his old buddy. Bondi opts to stay - his ways have changed and he has a wife and a child to consider - but Jack Burns breaks out and is pursued by the Sheriff (Walter Matthau)



12.

The Great Northfield Minnesota Raid


Starring Cliff Robertson and Robert Duvall
The real story of legendary outlaw Jesse James most daring bank robbery






13.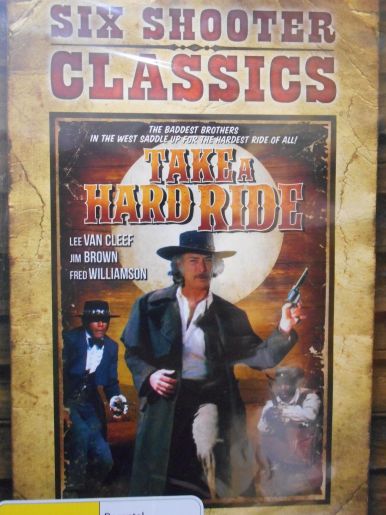 Take A Hard Ride


Starring Lee Van Cleef, Jim Brown and Fred Williamson
The baddest brothers in the west saddle up for the hardest ride of them all.Led by a bad-to-the-bone trail boss, the sweet talking cardshark and the sharp-shooting bounty hunter take a hard ride.


14.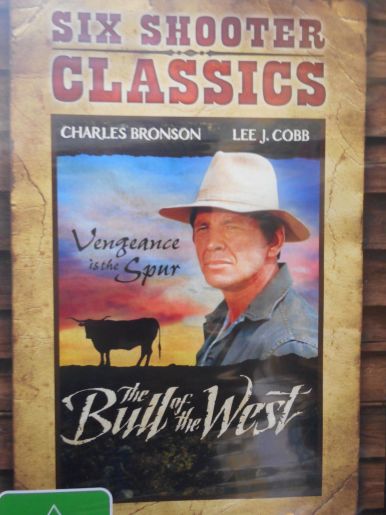 The Bull of the West


Starring Charles Bronson and Lee J Cobb
Bronson plays rancher Ben Justin who has recently arrived in Medicine Bow, Wyoming. He is informed by ranch hands that he has violated the rules of the Stockman's Association.Another rancher is so incensed that he makes certain that Ben's cattle do not have access to the railroads. Ben's fury builds further when he is convinced his wife is having an affair.....


15.

The Last Sunset


Starring Kirk Douglas, Rock Hudson and Dorothy Malone
Brendan O'Malley (Kirk Douglas) a former gunslinger, arrives at the Mexican home of his old flame, Belle Breckenridge (Dorothy Malone) to find her married to a drunkard preparing for a cattle drive to Texas.




16.

Forty Guns


Starring Barbara Stanwyck, Barry Sullivan and Dean Jagger
A tough noirish ride through the hard, unforgiving face of the American west, Forty Guns starts Barbara Stanwyck as Jessica Drummond - a despotic matriarch whose posse of forty hired guns over-run weak willed sheriff Ned Logan to make her de-facto leader of Cochise County. Then a one time gunslinger turned US Marshall arrives to restore law and order

17.

A Reason To Live, A Reason To Die


Starring Telly Savalas, James Coburn and Bud Spencer
Union Colonel Pembroke (Coburn) rescues seven men from the gallows in order to attack Fort Holman,m which is commanded by the insane Confederate Major Frank Ward (Telly Savalkas). Under the guise of seizing the fortress for the strategic location, Pembroke in fact wants revenge for Ward's cowardly murder of his son. The siege that follows pits criminals and confederates against each other.


18.

Backlash


Starring Richard Widmark and Donna Reed
This is the story of one man's search for his estranged father and one woman's attempt to discover the truth behind the disappearance of her husband, both of whom were possibly the victims of an Apache massacre.