to Rhonda's Refits and http://www.outbackbooks.info

100 Taylor Street ie Cnr Taylor & Holberton Streets. Heaps of off street parking behind the shop.


Telephone number 0429 020 515
Sorry no landline for a little bit - telco issues.

Our lease was up and after 11 great years in Hume Street and we have found a new home at the corner of Taylor and Holberton Streets. Thanks to all our neighbours around our old shop for your friendliness.
____________________________________________________________________________
TRADING DAYS OVER CHRISTMAS / NEW YEAR
Friday 23rd December 9am - 5:30pm
Saturday 24th December 9am - 3pm
Sunday 25th December Christmas Day CLOSED
Monday 26th December Boxing Day CLOSED
Tuesday 27th December Public Holiday CLOSED
Wednesday 28th December 9am - 5:30pm
Thursday 29th December 9am - 6pm
Friday 30th December 9am - 5:30pm
Saturday 31st December 9am - 3pm
Sunday 1st January NEW YEARS DAY Closed
Monday 2nd January Public Holiday CLOSED
Tuesday 3rd January 9am - 5:30pm
Wednesday 4th January 9am - 5:30pm
etc
---------------------------------------------------------------------------------------------------------------------


Look at these prices:
NEW ARIAT Mens Roper in roper or square toe, Ladies Roper or laceup, mens laceup
POSTED TO ANYWHERE IN AUSTRALIA $215 (In shop price of $195 plus $20 Australia Post bag)


We can add a copy of CATTLEMAN by RS Porteous for an extra $24.95 - no added postage. Great gift idea
---------------------------------------------------------------------------------------------------------------------------

Good luck to Brooke Rich, who is an entrant for the WARWICK RODEO PRINCESS

Brooke writes: "I am 17 years old and live at Oakey. I was fortunate to be accepted as a very late entrant for the Warwick Princess Quest due to my barrel racing commitments.My QBRA season has currently finished and I was fortunate enough to walk away with a saddle and four buckles amongst other prizes by winning the Junior 1D, 2D, 3D and 4D.

Now that I have the time I cannot wait for my opportunity to promote rodeo, help provide awareness and confidence to our up-and-coming young ladies as well as promote the magnificent lifestyle that is available to us in our small rural communities.

I am currently in grade 11 at Pittsworth State High School hoping to gain a good OP to secure me a spot at University in Medical or Veterinary Sciences."
Rhondas Refits is one of Brooke's sponsors.

_____________________________________________________________________

MAIL AND TELEPHONE ORDERS WELCOME
Over 700 pairs of new ARIAT boots for the whole family in stock. Current ARIAT factory special: Mens and womens Heritage Ropers or Laceups at $195

Rhonda's Refits now stock the famous Crow's Nest Softdrinks at Crow's Nest factory prices - $48 a carton of 24. You can mix the carton if you like.

Aussie Books for Aussie Kids - plenty of titles

See our Western DVD's at the WESTERN MOVIES page. All $9.95.
Includes GUNSMOKE with James Arness

We can post them out to you.





SUPER SPECIAL as at 29th July 2016
New kids jeans for $39. That's right! New Outback jeans, black colour, or new Australian made BlueDog kids jeans in blue or black for $39. We bought in bulk to save us all heaps. While stocks last. Remember we can post or courier to your door. Call (07) 46 3 789 33 or email mailto:info@rhondasrefits.com
TIME FOR A NEW AKUBRA

David Munchow called in to Rhonda's Refits recently. David's old Akubra needed replacement - mind you, it can tell a few tales. It has been driving in road trains across the outback and has been around Australia. The old Akubra's claim to fame is that it fell into the ocean at the very tip of Cape York! David tells me he was duty bound to save it. No doubt this next Akubra will also have a few tales to tell in the near future. Here's David with the old and the new.


NEWSFLASH 4th May 2015
We had the pleasure of having EDEN WILLANS in the store today.
Eden raised $5,804.50 and was Oakey Show Society's 2015 Miss Open
Fundraiser. This was the highest amount ever raised. Congratulations Eden.

NEWSFLASH: 8th Jan 2015
Elvis was in the building - Rhonda's Refits building that is.
On his way to Parkes for the annual Elvis Convention, JEFF HANCOX
was in looking for genuine USA clothing and found a great belt.


Good luck at Parkes Jeff.
April 2015: We have just heard that Jeff WON.
WOW! It was that Rhonda's Refit belt !





________________________________________________________________________________



available in store. Plenty to choose from.
From the mountains of Montana USA to the mountains of Toowoomba, Australia for you to peruse....or here on our website.


__________________________________________________________________________


We bought 800 so while stocks last
Brigalow felt hats in black, silver, cream
and brown $49.95 About 25 left still - check to see if we have your size.


OVER 1000 PAIRS OF BOOTS ON DISPLAY IN STORE

We import pre-worn boots, shirts and jeans from the USA, and stock new Ariat, Blue Dog, Brigalow, Outback, Akubra, Montana Jewellery, flags from around the world, novelty number plates and more. It is a great mix of new and pre-worn western and country clothing and accessories for the whole family.

We keep a good range of Betty Boop, John Wayne, Ned Kelly, Eureka and Confederate gear.


Please email us at mailto:info@rhondasrefits.com or phone or fax us on 07 46 3 789 33 for a postage/courier quote.

If you are looking for Aussie Books, please see http://www.outbackbooks.info Over 300 Aussie books now on this site. All are available to see at Rhondas Refits - and save on the postage.

Trading hours:
Monday to Friday 9am - 5:30pm, with 6pm on Thursdays
Saturday. 9am - 3pm
Sundays. The shop is usually open from 10am-2pm but phone first to check.
Telephone 07 46 3 789 33

NEW ITEMS:

$35
Raccoon Skunk hat
or coon hat

See Davey Crocket in a raccoon hat http://www.youtube.com/watch?v=9THOTQPshyQ

NEW ITEM: 25 year Rainfall Register http://www.outbackbooks.info
NEW ITEM: Book WHAT NEXT YOU BASTARD Book 2 See http://www.outbackbooks.info
NEW ITEM: Toowoomba made, 10 plait, kangaroo lace belts, with two rings. $65 or $70 if over 40 inches See belts, knives page
NEW ITEM: Queensland flags See Flag page.
NEW ITEM: Hat Stretcher from USA. Will maintain size or increase size.New load just arrived from USA. See hat care and products page

POPULAR ITEM: Green River farm knives, made in the USA. We have sold dozens of these so come in and see quality USA made knives.
____________________________________________________________________________________
__________________________________________________________________________________
One of the few Sundays we have been closed was on Sunday the 1st September 2013. One of our daughters married. But rest assured they were wearing their new and pre-worn western boots from Rhonda's Refits. As we are a family business and family work behind the counter, if you are making a special effort to join us on Sundays it is worth a phone call beforehand as we do have these occasional family gatherings where the inlaws and the outlaws get together.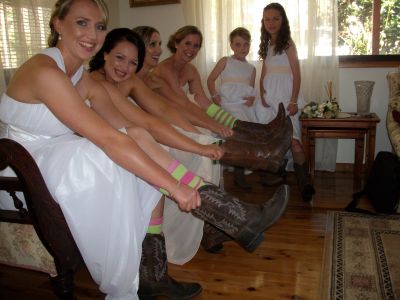 __________________________________________________________________________________